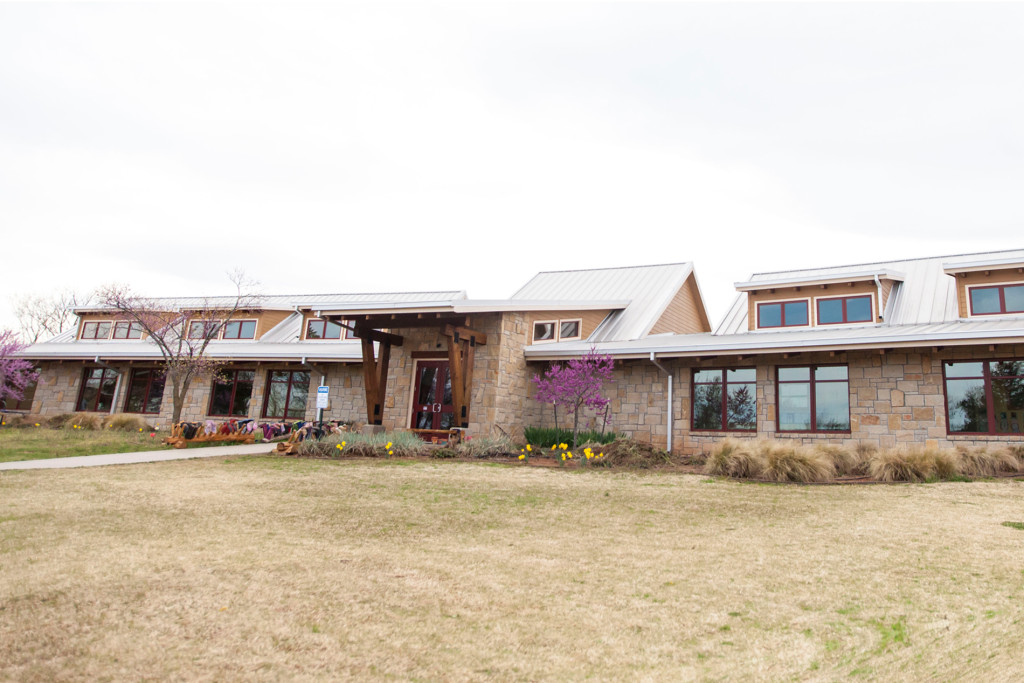 As soon as you step foot onto the grounds of Terra Verde, you'll know you are visiting a special school. We absolutely love our 61-acre campus located in Norman, Oklahoma. We use our natural setting as a springboard for our unique environmental education program. Our campus consists of a pond, three school buildings, large athletics field, a giant hill-slide, a natural playground, chicken coops, organic gardens with drip watering systems, an orchard, many native trees and plants, and a composting station. In 2019 we opened our new 19433 sq ft gymcafetorium on campus.
The original home at TVDS has been converted into an administrative building with office space and a faculty lounge. Our new sustainable school buildings, the newest completed in August 2017, include the latest in environmentally sensitive and energy efficient materials. The Lower School building houses the Great Room, used both as a library and a school-wide meeting space, as well as five classrooms whose natural lighting create an optimal learning environment for our students. The middle school building includes math, science lab, social studies classroom, Mandarin and Spanish classrooms, and language arts/library room. Our Lower School and Middle School buildings also include storm shelters for Oklahoma's inclement weather.
The pond, gardens, and woodlands provide ample opportunities for nature-based learning. We build a love of nature in our students by taking our learning outdoors as much as possible. Walking around our campus, you'll often find reading, writing, and math lessons taking place outdoors in the fresh air and sunshine. In 2015, our students and parents completed a construction project culminating in a beautiful outdoor classroom. They collaborated to build a covered bridge, classroom seating, teepee, birdhouses, and even a fairy house.
Campus Sustainability and Safety Features
Concrete and steel reinforced restrooms which double as storm shelters (FEMA F5 rated standards).
Trane CleanEffects air filtration system as part of the high-efficiency heat pump HVAC systems- removes more than 99% of influenza viruses from the air (per Harvard study).
Energy efficient insulated windows which minimize energy loss and maximize natural light usage, as well as utilize natural airflow on temperate days.
Soy-based spray foam insulation combined with recycled denim insulation.
Energy efficient lighting systems, including LEDs, fluorescents, and dimmers.
Low water usage toilets and waterless urinals.
Energy efficient reflective metal roof which is recyclable at the end of its life cycle.
Low VOC paint and finishes.
Sustainable cork flooring throughout the buildings.