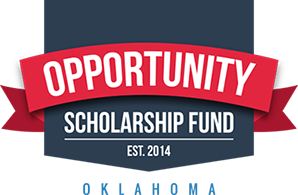 Tax Credit Donations
Terra Verde is an accredited member school with the Opportunity Scholarship Fund (OSF), a non-profit organization that grants scholarships to Oklahoma K-12 students. When donors give to Terra Verde through OSF, they receive additional financial benefits beyond a tax deduction.
Any individual, family or business entity paying income taxes in Oklahoma is eligible to contribute through OSF and receive tax credits. Single-year donations are eligible for Oklahoma tax credits of 50% of the allowable donation amount and two-year donations can receive up to 75% back. The amount of tax credits may not exceed $1,000 for individual, $2,000 for couples, those filing jointly, and $100,000 for qualified business entities. Click Here to use OSF's tax-benefit calculator to better understand the advantage!
Donate now by completing this form and making the initial donation check payable to the Opportunity Scholarship Fund.
Mail to OSF Attn: Gift Processing, 1831 East 71st Street, Tulsa, OK 74136.
For monthly donations use this Form.
To donate stocks and bonds, use this Form.
Your donation can help give Terra Verde students the solid foundation they need for personal and academic success.